The Question
Why did you change your name? If I had a dime for every time I've been asked that…well, you know. In all fairness, it's a great question and the answer is simple. We changed it to better reflect that we are a furniture manufacturer as opposed to a store of some type. However, the more complete answer is that in a lot of ways, we've always been Built by Newport. Our journey as a company and as a family is one of dreams and drive that has been built right here in Newport, Vermont.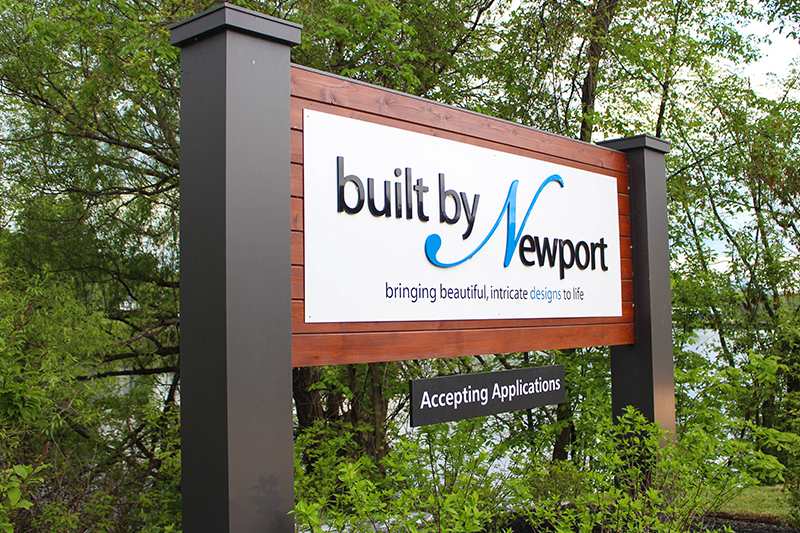 The Evolution of Built by Newport, an American Furniture Manufacturer
In 1963, our company was founded in Newport, Vermont as a sister company to a furniture plant in a small town in the heart of Quebec, Canada. Founders Jean-Marc Laforce and Albert Forcier, a couple of go getters with a ton of guts and creativity, set up shop in Newport to build rocker blades. At the time, it was the only part that was made. Anyone who knows anything about being in the furniture industry knows you can never stand still or you'll be irrelevant before you even realize it. Possessing an instinctive understanding of that industry reality and a drive to create a place of work to be proud of, Jean and Albert never hesitated to evolve the skill set of the company in response to the current market and customer demand.
As a result, a mental model was born of openness to change and a passion for growth and opportunities was ignited. Before long, rocker blades led to fully assembled gliders and some other wooden furniture parts (components), then some components and some fully assembled furniture – no more gliders, to the place we are now of far more fully assembled products vs. wooden furniture components. Along that path of change regarding what we manufacture, a change in ownership was also occurring. Having established the company name as Newport Furniture Parts and cementing a reputation for quality craftsmanship and innovation in the furniture manufacturing industry, the time came for Jean and Albert to retire. It was the mid-90's when Jean's son, David Laforce, and one of the original employees, Larry Daigneault (Jean's brother-in-law), joined forces to lead the company in its next stage of growth…the world of CNC technology.
If you are a local here in our area, you probably still refer to Built by Newport (BBN) as Newport Furniture Parts as you recall the days when our primary product was our very own Miracle Rocker. Our decision to sell the glider rocker aspect of our business is just one of many examples when it was necessary for us to respond to the changing market in order to not only survive but thrive in the furniture manufacturing world. With as much ingenuity and vision the original owners had, imagining that we would become a manufacturer of mostly fully assembled furniture beyond the glider rocker was a big reach. However, that is precisely what happened, and over time, the company name's ability to adequately reflect the business diminished.
Changing Our Name - The Latest Chapter of Our Story
In the spring of 2014, Larry retired and once again, after just over 50 years of service in the furniture manufacturing industry, Newport Furniture Parts was in the midst of change. It was during that time that the remaining owner, Dave Laforce, began envisioning a new name for the company that would remain relevant for the next 50 years! With full recognition of the need to adapt and flex over time, and that this would always be true in the furniture industry, Dave wanted the name to reflect who we are but also not to pigeonhole us in any way. A common phrase over the years was that a product was "built by Newport." Additionally, it had always been common for vendors and customers to leave out the "furniture parts" portion of the previous name. Quite frankly, it was a very natural fit for us to adopt the name of Built by Newport.
Not long after Dave made the decision to move ahead with the change of name, he was joined by a new partner, his wife, Julie. That's me. We've proudly embraced our new name as we've entered this latest chapter in the story of our company. Built – an homage to the sweat, tears, and joy that is undeniably the fabric of what this company is made of. By Newport – a nod to our original name, but more than that, an acknowledgement of our commitment to our team and our community here in Newport. We pride ourselves on bringing the beautiful designs of our customers to reality as we partner with them as the manufacturing arm for their products. Our passion is two fold: building complex, quality Vermont made furniture and for building up a team of committed craftsmen with the same dedication to our vision for this company – making the very best in furniture in a place that we love. That is why we are Built by Newport.
Warmly,
Julie Laforce, Director of Organizational Development & Wellness
Co-owner, Built by Newport